ANNOUNCING
Seventh Annual International
Festival of the Aegean
July 12 - 25, 2011
Apollo Theater, "La Piccola Scala"
Island of Syros, Cyclades, Greece
Peter Tiboris, Founder, General Director & Music Director
Pan-European Philharmonia
Jakub Fiebig, Orchestra Executive Manager
Tim Sharp, Direttore Ospite Principale
Earl Rivers, Janet Galvan, Irene Messoloras, Direttore Ospite
Giuseppe Verdi's La Traviata
Melodramma in tre atti
Libretto di Francesco Maria Piave
Edizione Ricordi-Milano

Peter Tiboris,
Maestro Concertatore e Direttore d'orchestra

Renato Zanella, Regia

Vinicio Chieli, Luci

Rogelio Riojas-Nalasco, Assistente del direttore d'orchestra

Personaggi ed interpreti
Natalia Ushakova, Soprano (Violetta Valery)
Marissia Papalexiou, Mezzo-soprano
(Flora Bervoix)
Josephine Delledera, Sopran (Annina)
Israel Lozano, Tenor (Alfredo Germont)
Frederick Burchinal, Baritone
(Giorgio Germont)
Joseph Brent, Tenor (Gastone)
Brent Davis, Baritone (Il Barone Douphol)
Benjamin Dawkins, Bass
(Il Marchese D'Obigny)
Richard Block, Bass (Il Dottor Grenvil)
Bradley Trammel, Tenor
(Giuseppe, servo di Violetta)
Theodore Moraitis, Bass
(Domestico di Flora and Commissionario)

Acting Chorus
Avery Draut, Soprano
Kelsey Fredriksen, Soprano
Evelyn Shreves, Soprano
Megan Brunning, Mezzo-soprano
Layla Edwards, Mezzo-soprano
John Ford, Tenor
Evan Tyor, Baritone

Featuring
Tulsa (Oklahoma) Oratorio Chorus
Tim Sharp, Maestro del coro

Grateful appreciation to
The University of Georgia Opera Ensemble
Hodgson School of Music, Athens, Georgia USA

July 12, 14, 16 at 9:00 p.m.


Choral Gala

Music by American, Canadian & Greek Children's Choruses
Janet Galvan, Guest Conductor
Arkadi Serper, Accompanist

Music for Woman's Chorus
Earl Rivers, Guest Conductor
Dean Peiskee, Accompanist

John Rutter's Requiem
Pan-European Philharmonia
Tim Sharp,Principal Guest Conductor
Paul Torkelson, Musical Associate
Josephine Delledera, Soprano
Sharon DeBoer, Accompanist

and Special Finale
Stavros Xarhakos/Vaggelis Gkoufas:
Onero Demeno,
Irene Messoloras, Guest Conductor
Theodore Moraitis, Bass

July 13 at 9 p.m.


Sunset Concert
at St. Nicholas Greek Orthodox Church
featuring

Four Visiting Choirs performing a cappella
sacred choral music.

Tulsa Oratorio Chorus, OK,
Tim Sharp, Conductor;
Kairos Youth Choir, Berkeley, CA,
Laura Kakis Serper, Conductor;
Contra Costa Children's Choir,
Walnut Creek, CA,
Iris Lamanna, Conductor;
The Singing Girls of Texas,
Mark Stamper, Conductor
July 15 at 6 p.m.


A Concert Commemorating
The 100th Anniversary of Gustav Mahler's death in 1911

Pan-European Philharmonia
Peter Tiboris, Conductor
Eilana Lappalainen, Soprano
Dvorák's "Carnival" Overture

Dvorák's Symphony No. 9
("From the New World")

Mahler's Des Knaben Wunderhorn
("The Young Boy's Magic Horn")
"Das irdische Leben"
"Wo Die Schonen Trompeten Blasen"
"Rheinlegendchen"
"Urlicht"

Mahler's "Adagietto" from Symphony No. 5

Mahler's "Das himmlische Leben" from Symphony No. 4

July 15 at 9 p.m.
CARMINA BURANA "Under the Stars"

Orff's Carmina Burana
Myrsini Margariti, Soprano
Paul Zachariades, Male mezzo-soprano
Frederick Burchinal, Baritone

Theodorakis' Zorba Suite (Highlights),
including "Asteraki" "Hasapiko Dance,"
"Strose to Stroma Sou"
Marissia Papalexiou, Mezzo-soprano

Pan-European Philharmonia
Peter Tiboris, Conductor

Miaoulli Plateia

July 17 at 10 p.m.
Academy AwardTM Winner

Olympia Dukakis
in a staged reading of

R o s e

Written by Martin Sherman
Directed by Nancy Meckler
Lighting Design by David Lander

"Olympia's performance in Rose is virtuosic."
-- The Boston Globe

"This is a triumph of Olympian proportions."
-- London Daily Telegraph

A remarkable life that began in a tiny Russian village, moved on to Warsaw's ghettos and ship called The Exodus, and finally to the boardwalks of Atlantic City, the Arizona Canyons and salsa-flavored nights in Miami Beach.

July 19, 20 at 9 p.m.

Mikis Theodorakis

Two Films by Asteris Kutulas & Klaus Salge
"Mikis Theodorakis. Composer"
"Mikis Theodorakis. Sun and Time"

Mikis Theodorakis and the directors will be on hand to discuss the films. The Cinema Theater
Free Admission

July 22 at 9 p.m.
Second Annual Greek Opera Studio
Gala Concert
Eilana Lappalainen,
Founder and Artistic Director

July 25 at 9 p.m.
The members of the following choirs, a total of more than 400 singers,
are particpating in Carmina Burana and Zorba on July 17.
Some of these choirs are also appearing in other concerts in the Festival.

Nova Voce, Los Angeles, CA, USA
Irene Messoloras, Guest Conductor
Kairos Youth Choir, Berkeley, CA, USA
Laura Kakis Serper, Guest Conductor

Taghkanic Chorale, Yorktown Heights, NY, USA
Steven Fox, Choir Director
Contra Costa Children's Choir, Walnut Creek, CA, USA
Iris Lamanna, Guest Conductor

Durango Choral Society, Durango, CO, USA
Linda Mack Berven, Choir Director
Connecticut Master Chorale, Danbury, CT, USA
Tina Johns Heidrich, Choir Director
Brevard Community College, Cocoa, FL, USA
Robert Lamb, Choir Director
Wesleyan College Concert Chorus, Macon, GA, USA
Nadine Whitney, Choir Director
The Arcadian Chorale of New Jersey, Matawan, NJ, USA
Marina Alexander, Choir Director

Richmond Choral Society of New York City, Matawan, NJ, USA
Marina Alexander, Choir Director
Warwick Valley Chorale, Warwick, NY, USA
Stanley Curtis, Choir Director
Sardis Presbyterian Church Sanctuary Choir, Charlotte, NC, USA
Ken A. DeBoer, Choir Director
The Knox Choir of Presbyterian Church, Cincinnati, OH, USA
Earl Rivers, Guest Conductor
Tulsa Oratorio Chorus, Tulsa, OK, USA
Tim Sharp, Guest Conductor

Gethsemane Lutheran Church, Austin, TX, USA
Ann Moeller, Choir Director
The Singing Girls of Texas, Fort Worth, TX, USA
Mark Stamper, Guest Conductor
Etobicoke Youth Choir, Etobicoke, ON, CAN
Louise Jardine, Choir Director
Chorus of the Department of Musical Studies,
University of Athens, Greece
Nikos Maliaras, Choir Director

The "Manolis Kalomoiris" Children's Choir, Athens, Greece
Nikos Maliaras, Choir Director

Choir of the National Conservatory of Athens, Greece
Spyros Klapsis, Choir Director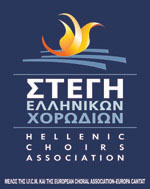 The Hellenic Choirs Association with members for the following choirs:

Choir of the Employees Union of the Bank of Greece, Athens, Greece
Konstantinos Evangelatos, Choir Director

Scientists' Choir of Philothei, Athens, Greece
Thomas Louziotis, Choir Director

Mixed Choir of Eptanisii of Patras
Lena Sourmeli, Choir Director
Choir "Armonia" of Preveza, Greece
Valentin Stefanov, Choir Director

With special thanks to the Hellenic Choirs Association,
Thomas Loutziotis, Executive Secretary,
for coordinating the appearances of the Greek choirs.

Works and artists subject to change without notice